2017 REBATE UPDATE
There are a wide range rebates available to home owners in Massachusetts for the installation of a new high efficiency home comfort system.  The rebate system is complex, but Rodenhiser can advise you how to maximize your rebate, and most importantly guide you on the process on filing the rebate claim - making it as easy as possible.
There are two main sources of rebates at the moment:
Mass Save's Early Replacement Rebate Program
This program is for boilers that are at least 30 years old, and furnaces that are at least 12 years old.
The eligibility requirements can be complex, and there is a deadline for submissions.  Rodenhiser can help guide you through this process and help you maximize your potential rebate.  Here is a guide to the rebates available through this system.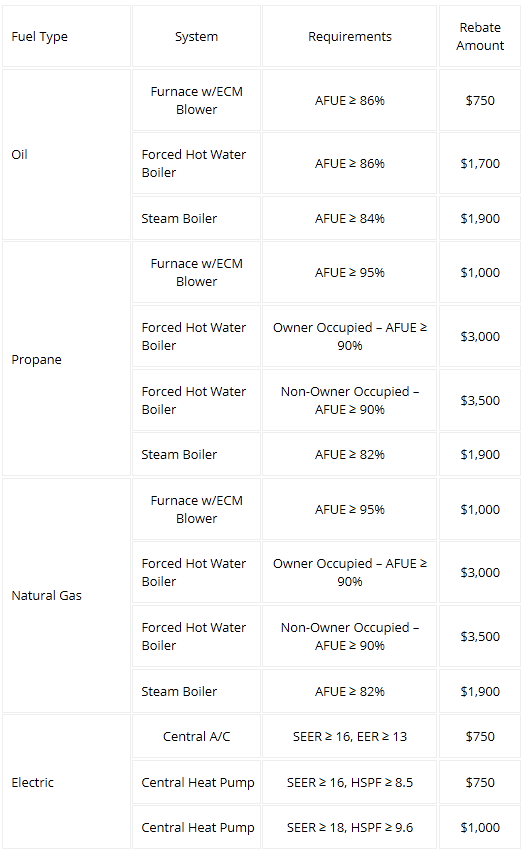 MassCEC's Clean Heating and Cooling Program
This program offers rebates on heat pumps including minisplit systems.  Rebates of up to $500 are available.
Rodenhiser will help guide you through the application process for all rebates.  We will streamline the process by providing them with pre-populated applications including contractor information and supporting system documentation.  We can submit the paperwork to ensure all rebates are delivered in an easy and timely manner.
For your questions or to arrange a FREE estimate on your new heating or air conditioning system, call and speak with Rodenhiser today.