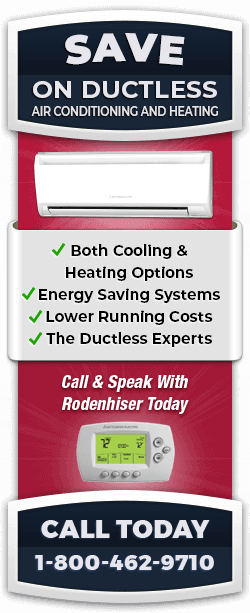 1. SAVE ON DUCTLESS HEATING & AC
If you are considering a new ductless heating and air conditioning system for your home, Rodenhiser can help show you the best and most efficient cooling systems.
2. ALL YEAR COMFORT
The latest ductless systems can heat your home down to minus 13 degrees, as well as providing you with efficient cooling all summer. It can be ideal for older homes, or homes where ductwork would be necessary.
3. HIGH EFFICIENCY HEATING & COOLING
The latest ductless technology can provide you with high efficiency cooling technology up to 21 SEER.
4. SMART PHONE TECHNOLOGY
Many new systems can be controlled from a smart phone via WiFi, as well as traditional remote control.
5. PROFESSIONAL INSTALLATIONS
Depend on a professional installation from the local heating and air conditioning specialists at Rodenhiser. We have been trusted in local homes since 1928.
6. GREAT WARRANTIES
Depend on a great warranty on your new system, including a limited seven year warranty on the new compressor.
7. FREE ESTIMATES ON NEW DUCTLESS HEATING & AIR CONDITIONING
Enjoy a FREE estimate on how you can save on ductless heating and air conditioning in your home.
For all your ductless heating needs in MetroWest Massachusetts, call Rodenhiser today.