1. Skipped annual maintenance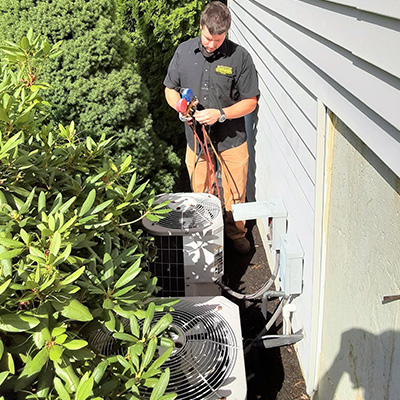 Annual maintenance is critical for your system's health. Inspections identify needed adjustments and wear on your system's parts while also providing a cleaning of your system. With a well-maintained A/C system, you can enjoy your summer with confidence, knowing you won't need to make any emergency repair calls. Around 85% of repairs are preventable thanks to maintenance inspections that catch problems early. In addition, a well-maintained system has the chance to last 15 to 25 years. Getting yearly maintenance will keep your system working productively through the cooling season and benefit you for years to come.
2. Your system is 12+ years old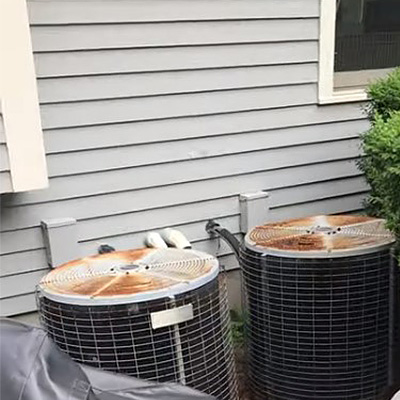 A system's age is a tell-tale sign of experiencing a breakdown. If your system is more than 12 years old, it has over a decade of wear from general use. The wear on the system's components adds up and more and more of your system's components will need to be repaired or replaced. Mass save recommends that if your air-conditioning system is over a decade old, you should even consider purchasing a new system now before it fails. A well-maintained system has the potential to last longer. However, If your system is older than 12 years old and you are not considering replacing it anytime soon, it is essential you schedule maintenance annually to avoid unwanted breakdowns.
3. Dirty Air Filters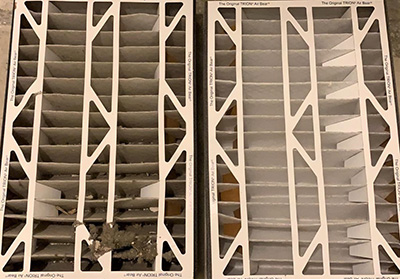 A dirty air filter is one of the leading reasons for air conditioning failure. A dirty filter restricts the air flow, which places strain on the air handler fan motor and could over time burn out the system, causing the failure. Air filters also keep the dust out of your home, circulating clean air. The recommendation is to replace your air filter before the latest cooling season or every three months. Especially after a cold, bitter winter, there could be a lot of dust build-up, and more debris gathered around the filter. It is highly recommended and essential that you change your air filter to keep your system running efficiently and reliably.
4. Blocked Air Vents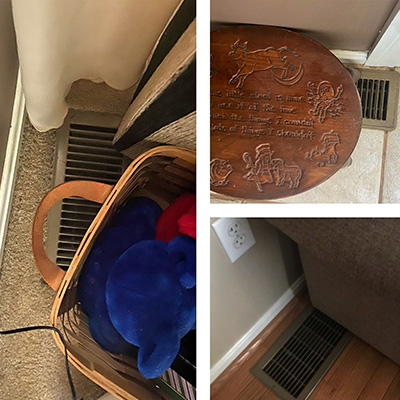 Your system should not be working harder than necessary. Systems working harder due to vents being covered are subject to greater wear and breakdowns. The restricted air flow also prohibits the distribution of cold air throughout the room. It is imperative to make sure your air vents are clear of any items such as furniture, drapes, or toys.
5. Crowded Outdoor unit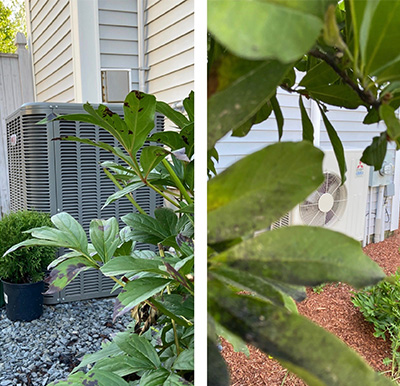 An outdoor unit needs space for proper airflow. If your system is near a garden or an area of snow build-up during the winter season, there might be bushes or debris against your outdoor unit. These obstructions can restrict air flow causing wear and future damage to the system's components. Homeowners need to inspect the outdoor unit to ensure there is no blockage around the equipment. A quick cleaning around the unit, removing such items as leaves, vines, or debris can help ensure proper air flow. If you see any visible problems with your unit, call an experienced professional technician to evaluate the issue.
Look for these 5 signs early in the air conditioning season to prevent system failure. At Rodenhiser Home Services, we are experts in residential air conditioning and offer seasonal air conditioning maintenance. We highly recommend and encourage air conditioning owners to look into our maintenance plans. These plans include yearly maintenance of your system, where we will alert you early in the season for available appointments, discount offers, and provide credits towards new system replacements as a reward for maintaining your system. If you don't have an air conditioning system or you have an older system, contact Rodenhiser Home Services for a free estimate.