Here are three tips that can keep your system running in top condition all summer long.
#1: Invest in a Whole-House Fan
If you've never seen a whole-house fan that's recessed into the ceiling, you might be surprised by how effective one can be. It leaves ordinary ceiling fans and box fans in the dust. Switched on, it draws air from inside the house up through the fan and into the attic, where the heat can be released through attic vents.
What's amazing about a whole-house fan is its ability to cool down a house in a hurry, which lets you switch off the AC and give it a break. But there's a technique to it. Raise window sashes only about an inch or two, no more than that, then turn on the fan.
Because the appliance is so powerful, it draws in air through the window openings to create a breezy current while eliminating stuffy heat. Most homeowners use a whole-house fan when outdoor temperatures are lower, from twilight until dawn, then switch on the air conditioning once the sun is up.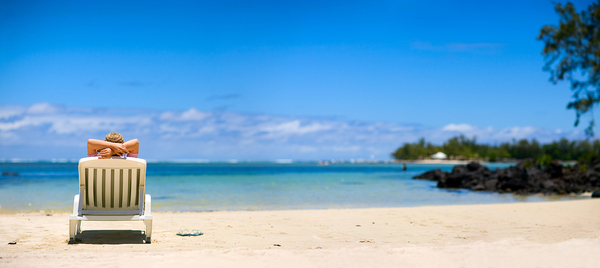 While you're on a tropical beach, a programmable thermostat keeps an eye on things at home.
#2: Use a Programmable or Smart Thermostat
Smart thermostats are the way of the future, but any programmable thermostat can help save money and improve your comfort. Consumer Reports recommends a general setting of 78 degrees, which sounds high. But with a healthy AC system that removes enough humidity, your 78-degree home will feel much cooler than a humid, 78-degree day outdoors. Then using the programmable thermostat, you can add in periods of adjustment when you don't need as much cooling.
During an ordinary week, the thermostat raises the indoor temperature at times when you don't need as much air conditioning, such as while you're at work, and lowers it when you do. And because it's automatic, you don't have to remember to adjust it. Remember that shutting down the system at night isn't recommended because a hot house isn't conducive to restful sleep.
A programmable thermostat is also perfect for when you're away on vacation. It automates the temperature control, which is better for some families than shutting down the system altogether. House plants, fish, and other living things can suffer or die if the indoor temperature gets too high. But a setting that's about 10 degrees higher will save money without letting the house turn into an oven.
#3: Follow a Good Maintenance Schedule
Regular maintenance is vital to the health of your air conditioning system. Check your air filter every month and replace it when it's dirty. In some homes, especially those with a few pets, the filter should be replaced every 30 days. But in others, the filter will be fine for as many as 90 days. Checking it monthly ensures you won't operate the system with a dirty filter, which impairs its ability to breathe and operate efficiently.
Check the outdoor unit frequently to prevent a buildup of grass clippings, leaves, and other debris that block the vents and delicate aluminum fins. Brush them gently with a soft-bristle brush to remove debris, and you'll encourage better circulation and efficiency.
Keep weeds and vines away from the unit, too. And if it's located on a side of your home that bears the brunt of the summertime sun, think about giving it some shade. You can install a screen to help block the sun or plant tall shrubs. Just be sure they're far enough away to give shade without blocking the unit.
Air conditioning has an enormous job to do. It cycles on and off repeatedly for months on end, so it needs all of the help that it can get. It's tempting to lower the thermostat more and more until you almost need a sweater indoors. But that leads to high electricity bills, and it also causes unnecessary wear and tear on the system. By eliminating more condensation, you can live more comfortably at a higher temperature. If your home gets cool but feels clammy, that's a sign that the system is working too hard and isn't removing enough moisture. It needs a checkup.
If you're already disappointed with the performance of your air conditioning this season, it might be time to schedule an appointment. Call Rodenhiser today for maintenance, service or a whole new system.