The Massachusetts cooling season can take a serious toll on your air conditioner, resulting in lower efficiency and higher utility bills.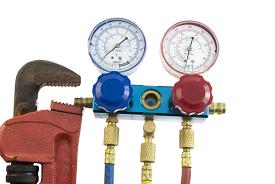 If the air conditioner in your home hasn't been tuned up yet, it's not too late for preventive maintenance to make a big difference in the operation of your system. In fact, the best way to prevent these four most common A/C problems is to schedule your annual tune-up with a qualified HVAC technician before you need to use your air conditioner 24/7.
Electric control failure - Corrosion on the wires and terminals, as well as loosened electrical connections, can cause your air conditioner to work sporadically and cycle erratically. During a maintenance visit, the technician will tighten the electrical connections, inspect the wiring and terminals for damage and corrosion, and apply a non-conductive coating to the connections to help prevent corrosion.
Low refrigerant - If your air conditioner has a refrigerant leak, ice may be present on the unit, resulting in inefficient cooling. A tune-up includes measuring the refrigerant level and checking for leaks if it's low. If a leak is detected, it will be fixed, the repair tested and the system topped off with the correct amount of refrigerant.
Drainage problems - During periods of high humidity, your condensate drain can become clogged and the condensate pan may overflow, causing your system to shut down. Your technician will flush the condensate drain to remove obstructions and prevent this common problem. If it becomes clogged after your maintenance visit, turn off the system and clear the drain with a plumber's snake or wet/dry vacuum.
Dust buildup - Over time, dust enters your system and coats the fan, motor and condenser, making your air conditioner work harder to keep you cool and possibly causing expensive damage to these components. A tune-up includes removing dust buildup from your system to ensure its efficiency and longevity.
For more expert advice about preventing common A/C problems, please feel free to contact us at Rodenhiser Plumbing, Heating & Air Conditioning. We've proudly served the Route 495/128 area for over 80 years.
Image via Shutterstock.com