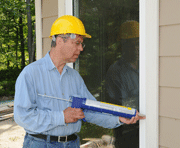 An air leak forces your heating and air conditioning system to work harder to provide proper airflow and consistent temperatures in your home. Sealing air leaks is a cost-effective way to increase energy efficiency and comfort in your home and, according to the Environmental Protection Agency, can save the average homeowner up to 10 percent on heating and cooling costs.
There are many areas in your home where air leaks can occur. You can easily check some areas yourself, but other areas may be hidden or difficult to access, and you may need to call a professional technician for help.
Here's where you should check for air leaks. Around:
Doors and windows
Window air conditioners
Window fans
Vents
Mail chutes
Recessed lights
Gas pipe or electric line openings
Cable, phone line or wiring openings
Foundation
Basement walls
Floor joists
Attic and attic entrance
Chimney flue and flashing
Water and furnace flues
Ductwork
Once you find leaky areas, most cracks and gaps can be easily sealed using caulk for smaller leaks, or expanding foam spray for larger gaps. Apply weatherstripping around doors to create a tight seal.
Taking the time to seal up air leaks will result in the following benefits:
It reduces energy consumption.
It stops drafts.
It stops moisture problems.
It improves indoor air quality.
It helps you save energy.
It increases home comfort.
It's a good idea to call a professional who can do an energy assessment of your home. Using special equipment, such as a blower door or thermal camera, a professional can conduct a comprehensive test and find leaks that are costing you money.
If you would like further information on detecting air leaks and increasing energy efficiency in your home, please call us at Rodenhiser Plumbing, Heating & Air Conditioning. We service the Route 495/128 area of Massachusetts.
Our goal is to help educate our customers about energy and home comfort issues (specific to HVAC systems).  For more information about other HVAC topics, download our free Home Comfort Solutions Guide.
Image via Shutterstock.com