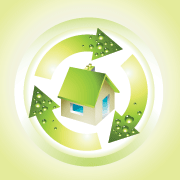 Proper attic ventilation allows for a continual flow of outside air through your attic year-round, enhancing the efficiency of your insulation while at the same time keeping the house cooler. It works on the simple principle of creating a balance between the air intakes near your eaves and the air exit located near the ridge of your roof.
In the summer, an improperly ventilated attic can reach temperatures of over 160 degrees, leading to potential damage to your insulation and increased temperatures in the living area. Attic fans can increase the efficiency of ventilation by pulling in cooler outside air from the air intake vents. It also helps that attic fans are economical to run and can help to reduce your A/C bill by preventing radiant heat from traveling down into your home from the attic.
Drawing cool, fresh air throughout the unfinished upper space of your home provides another benefit — it replaces humid, stagnant air that can cause problems with your wood frame and joists, like mold and mildew.
The attic fan usually requires very little maintenance. With larger units, there may be annual oiling, depending on the manufacturer's instructions. With smaller units, keeping the outtake vents and fan blades clean will help with a more efficient operation.
For an expert evaluation of the efficiency of your attic ventilation system, emergency repairs, regular maintenance, or a discussion about installing new heating or air conditioning equipment, contact Rodenhiser Plumbing, Heating and Air Conditioning. Our experts have been serving the Route 495/128 area of Massachusetts, including the Sudbury area,  for over 80 years.
Image via Shutterstock.com