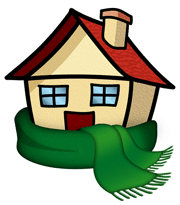 However, you may be wondering whether to go with batts, foam or loose fill. Different insulating materials are applicable in different areas of the house.
Before you add batts, foam or loose fill, it's important to understand the recommended R-value for the location where you will install it. R-value is a rating of how efficiently insulation stops heat transfer. Energy Star has some suggestions, but these are only generalizations. Every household is unique, and the only way to learn how much R-value you need, and where, is with a personal evaluation. Here are some general guidelines to follow:
The attic. The attic is the most popular area for Massachusetts homeowners to add insulation. Batts, foam or loose fill can all work in the attic. Batts and foam have the benefit of being removable, if you ever wish to finish your attic, while loose fill will get into small nooks and crannies to stop energy loss.
The walls. During construction, batts and foam may be installed in walls, but for existing walls loose fill is usually the way to go. It is blown into the wall, where it settles in small and irregularly shaped spaces.
Crawl space. Insulating the crawl space can be a complicated project. You could need a vapor barrier installed, otherwise moisture might become a serious problem and could damage the insulation you install. Batts or foam are most appropriate, because loose fill could become messy if you ever need to access the space.
Batts, foam and loose fill insulation all have different properties. For instance, foam board may need to be covered with a fire-safe material, such as gypsum board. You also have other options, such as radiant barriers, which can help prevent solar gain in the attic.
If you'd like professional help to get your insulation job done right, call Rodenhiser Plumbing, Heating & Air Conditioning. Serving  the Boston area, we'll be happy to help.
Our goal is to help educate our customers about energy and home comfort issues (specific to HVAC systems).  For more information about insulation and other HVAC topics, download our free Home Comfort Solutions Guide.
Home insulation image via Shutterstock