For a homeowner, boiler malfunction and breakdown during the winter months can be a nightmare. Your boiler can run both your home heating system as well as your hot water supply. It's best to check your boiler operation before the dead of winter so you don't get left out in the cold.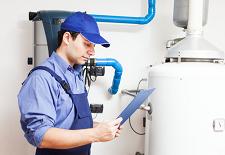 Here are some quick boiler malfunction checks you or your HVAC professional can perform before disaster strikes:
Is there adequate power to your boiler? If there was a surge to your system, a breaker may have tripped in your home. First things first: check to make sure the breaker your boiler is hooked up to isn't tripped. If so, reset the breaker.
What's the current water level? If the water level is too low, there may be a problem with your pressure relief valve. The valve is what allows water to automatically fill your boiler when the pressure within is below 12-15psi. If possible, manually add water to the boiler by refilling until the valve reads at least 12psi. Recheck after water use to see if the valve corrected itself.
Check your pilot light - If your boiler isn't producing hot water, the pilot light may be out. Relight the pilot following the instructions on the boiler. After the water has a chance to reheat, recheck for warm water from a faucet.
Check for leaks - Check the connections on your boiler. Boiler malfunction can be a result of broken seals and leakage from the tank.
Check for radiant heat from baseboards, if applicable - If your boiler heats your home, turn on the heating system and check for radiating heat from your baseboards.
To have your boiler checked for optimal operation, contact the experts at Rodenhiser Plumbing, Heating & Air Conditioning. Our team of professionals has served the Route 495/128 areas of Massachusetts since 1928.
Our goal is to help educate our customers about energy and home comfort issues (specific to HVAC systems).  For more information about boiler malfunctions and other HVAC topics, download our free Home Comfort Solutions Guide.
Image via Shutterstock.com