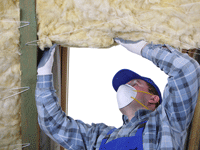 Proper attic insulation can keep that cool air in your living space where it belongs -- which has several benefits:
Your home will be more comfortable.
Your HVAC system won't have to work as hard (increasing its life span).
Your energy bills will be less.
The function of insulation is to reduce heat flow; it keeps heat in during heating season and keeps it out during cooling season.
Heat -- or warm air -- will always try to travel from a warmer space to a cooler space. Insulation is the barrier preventing that movement. This allows your heating/cooling system to work less, thereby saving you money.
The temperature in your attic can easily reach more than 125 degrees in the summer months. Unless you have sufficient attic insulation that heat will radiate through your ceiling and into the rooms of your upper floor -- forcing your A/C to work harder to maintain a comfortable temperature in the living space.
If your air handler or ductwork is located in your attic, the excessive heat there will quickly transfer to the conditioned air you are paying for. This also increases the work load on your equipment and can lead to early service requirements.
Insulation is available in several types:
Fiberglass blankets (batts)
Fiberglass loose fill (blown-in)
Mineral wool (also known as rock wool)
Plastic fiber (made from recycled plastic)
Sheep's wool, cotton and even recycled blue jeans
Local building codes will list minimum insulation requirements, but more is always good. The amount you add can vary depending on the style of construction, the equipment present, available access and, naturally, your budget.
Compared to the cost of oil or natural gas, insulation is cheap. A small investment will pay off for years to come.
To learn more about attic insulation and how it can help you save money, contact the experts at Rodenhiser Plumbing, Heating & Air Conditioning -- trusted in Massachusetts since 1928.
Our goal is to help educate our customers about energy and home comfort issues (specific to HVAC systems).  For more information about insulation and other HVAC topics, download our free Home Comfort Solutions Guide.
Insulation image via Shutterstock