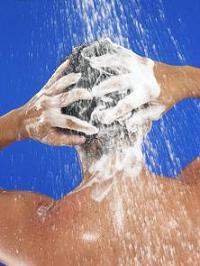 In fact, the Department of Energy estimates that after heating and cooling, water-heating accounts for the next largest energy expense in your home. And cutting back on heating costs and your usage lowers both your water and energy bill.
Use these helpful tips to manage water-heating costs:
Watch for leaks
If hot water faucets are dripping, you're not only wasting water, but you're also wasting the fuel to heat it. Most of the time it's easy to fix a leak by installing a new washer. However, if the plumbing looks beyond your capability, call a licensed plumber to do the work for you.
Plumbing fixtures
Any shower head installed before 1992 is likely to flow at a high rate. Consider replacing these with low-flow heads, which will reduce your hot water consumption substantially. Although the heads use much less water, the engineering makes them feel as powerful as the older types. Also consider purchasing laminar-flow types rather than aerating heads to reduce the mist in the air.
Use aerators on the faucets in the kitchen, baths and laundry sinks to cut down on water-heating costs. These are available in hardware or home-improvement stores, and they slow the flow of water considerably.
Appliances
When you need a new washer or dishwasher, select water-saving equipment. Appliances will have a label indicating energy efficiency and water usage. Besides lowering water consumption, you'll reduce water-heating costs, too.
Wash full loads in the dishwasher instead of smaller loads. You'll save water and energy using a dishwasher rather than washing dishes by hand, as long as the load is full.
Wash your clothes in cold water, or if you feel hot water is necessary for some items, select a cold rinse after a hot wash cycle.
Rodenhiser Plumbing, Heating & Air Conditioning is a full-service plumbing, heating and air conditioning contractor, serving the Route 495 and 128 areas in Massachusetts. If you'd like to learn more about reducing your energy costs, please contact us today.
Our goal is to help educate our customers about energy and home comfort issues (specific to HVAC systems).  For more information about other HVAC topics, download our free Home Comfort Solutions Guide.
Shower image via Shutterstock