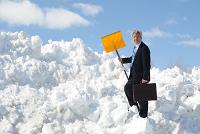 How snow melt systems work
A snow melt system will warm your driveway with hydronic technology. Pipes are laid underneath your driveway, and water warmed at a central boiler is brought through the pipes, warming your driveway in the process. As it heats up, snow and ice melt.
Advantages of using a snow melt system
There are several benefits to adding a snow melt system to your driveway:
Installing a snow melt system will ensure that your new driveway lasts for a long time, adding to its durability.
With a snow melt system, you won't ever need to worry about shoveling snow or ice off your driveway, or adding corrosive salt and other chemicals that can damage the driveway surface.
A snow melt system is automatic, so even if it snows in the middle of the night you won't wake up with a snowy driveway.
As a bonus, when it's time to sell your home, a snow melt system can add value. An undamaged driveway is visually appealing to buyers, as well as providing the added feature of a warm driveway during cold Massachusetts winters.
The best time to install a new driveway is in the spring or fall, because warm temperatures are ideal for pouring concrete. And, if you want a snow melt system, it's more cost-effective to install one when you're building the driveway rather than adding it later.
Make this winter the last time you'll ever shovel snow from your driveway by adding a snow melt system to your spring construction plans. Contact Rodenhiser Plumbing, Heating & Air Conditioning with any questions you have about driveway snow melt systems. We are happy to help you make the best decisions for your home.
Our goal is to help educate our customers about energy and home comfort issues (specific to HVAC systems).  For more information about other HVAC topics, download our free Home Comfort Solutions Guide.
Snow shovel image via Shutterstock