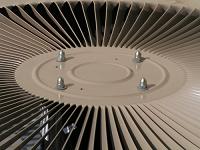 Find out what tasks your technician will perform during a professional maintenance appointment, as well as the key steps you should be taking to take care of your heat pump.
Professional heat pump service
During a professional tune-up, your technician will perform tasks like:
Checking the condition of all of the heat pump's components
Replacing parts that have worn
Cleaning the components thoroughly, ridding the coils, fan blades and compressor that succumb to dirt buildup over time and lower the system's efficiency and decrease its cooling output
Checking the refrigerant charge, ensuring that it meets optimal efficiency levels
Testing the refrigerant lines for leaks, making repairs as necessary
Inspecting the ductwork, measuring the system's air leakage rates and resolving problems through sealing air leaks or insulating
Checking the condensate drain, removing any film or mildew that impedes the drainage of water out of the system
DIY care for your heat pump
Having professional maintenance performed doesn't mean you're free and clear of responsibilities that ensure proper performance. Here's how to take care of your heat pump over the summer season:
Start off the cooling season by replacing the air filter.
Over the next few months, check the filter every four weeks. When it looks dirty or full, replace it.
Watch the area around the outdoor condensing unit. Grass clippings, dirt and old leaves impede the system's airflow and will cause buildup on the coils.
Check the home's registers periodically. Keeping them unobstructed by furniture, toys or other objects allows you to receive the full measure of conditioned air the heat pump generates.
For expert advice on home maintenance tips, as well as to access the area's leading HVAC professionals providing top quality maintenance, contact Rodenhiser Plumbing, Heating & Air Conditioning. We're happy to help you take care of your heat pump. We serve homeowners along the Route 495/128 area of Massachusetts, including the Wayland area. Give us a call or visit our website for more information.
Our goal is to help educate our customers about energy and home comfort issues (specific to HVAC systems).  For more information about heat pumps and other HVAC topics, download our free Home Comfort Solutions Guide.
Rodenhiser Plumbing, Heating and Air Conditioning serves the Route 495/128 area of Massachusetts.  Visit our website to see our special offers to get started today!
Image via Shutterstock.com