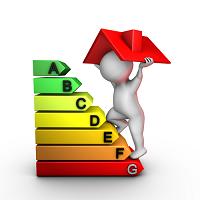 A home energy audit is all about the blower door test
Searching for air leaks yourself can be a time-consuming, tedious ordeal, checking for drafts and other signs of air leakage around the home's perimeter. While this can be an effective way to tackle the issue, many homeowners don't have that kind of time or the patience required. Plus, there's a good chance that you might miss a few key areas that require sealing.
This is where an HVAC professional comes in. Professionals have access to a blower door device, and can use the test as the primary element of the energy audit. This test consists of a large fan positioned inside of an exterior door. Once the device is turned on, air is literally sucked from the home. Then, as air rushes back in through the cracks and gaps in your home, the device helps the technician pinpoint problematic areas that need to be sealed.
Preparing for the home energy audit
Getting ready for a blower door test is easy. Before turning on the device, the technician should first close all of the windows in your home and open all interior doors. Also, the power and fuel to your furnace and water heater should be shut off. If you have a wood stove or a fireplace, the technician will close the damper and doors too. Before proceeding, you may want to clean up fireplace ashes or use damp newspapers to cover them to prevent them from spreading through your home. 

For more expert advice about conducting a home energy audit, or for questions relating to home comfort, please contact the friendly professionals at Rodenhiser Plumbing, Heating, & Air Conditioning. For 80 years, we have proudly served the Route 495/128 area of Massachusetts.
Image via Shutterstock.com