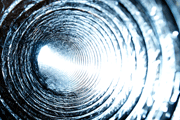 This statistic may be true for your home if:
You have unusually high winter and summer utility bills
Rooms in your home are difficult to heat and cool
You have stuffy rooms that never feel comfortable
Your ducts are located in a crawl space, attic or garage
Insulating air ducts that run through spaces that get cold in the winter and hot in the summer—such as attics, garages or crawl spaces—can be a wise, energy-saving improvement, and it's a job you can do yourself with the appropriate R-value insulation. Perhaps the best part? The insulation is totally encased in plastic, so you don't have to guess which side should go against the duct. Also, neatness doesn't necessarily count here; it's more important that the duct is completely covered in insulation.
First cut the insulation into 6- or 8-foot pieces so that you can easily handle it. Then wrap the insulation around the duct, leaving a 4-inch overlap to make a seam up and down the duct. Secure the seams with foil tape. There should be no gaps or holes whatsoever.
In the course of this job, you may notice that the ductwork is no longer viable and should be replaced. You face two choices that present two different scenarios: fiberglass duct board is very effective, but it can also be expensive to install. Sheet metal air ducts are popular and inexpensive to install, but are not very effective. In this case, it may be best to let a professional guide you to the best remedy for your home.
The time may be right to call the experts at Rodenhiser Plumbing, Heating & Air Conditioning. We can help seal up your ducts for another Massachusetts winter—and seal up your wallet with energy savings, too.
Our goal is to help educate our customers about energy and home comfort issues (specific to HVAC systems). For more information about other HVAC topics, download our free Home Comfort Solutions Guide.
Ductwork image via Shutterstock