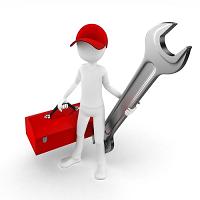 As with any type of heat pump, ductless mini-split maintenance should be regularly scheduled in order to keep the equipment running optimally.
Some of the steps, such as inspecting and cleaning or replacing air filters when needed, can be done on a DIY basis. Other ductless mini-split maintenance procedures should be handled by a qualified HVAC technician.
One of the easiest ways to ensure that your ductless mini split stays well-maintained is to enroll in a scheduled annual or semi-annual maintenance program with your HVAC service provider. By having a qualified expert come in and do a once-over on your equipment at least once a year, you'll be able to head off any small problems before they become large, expensive ones.
The small investment made in proper ductless mini-split maintenance will typically pay for itself by ensuring continued efficiency and economy of the system and also increase its life span.
Here are the things your HVAC professional should accomplish during a routine service call:
Check the outdoor compressor unit for proper operation and a firm, balanced footing. Ensure it's free of any debris, vegetation or anything that's impeding proper air circulation.
Inspect all filters and clean or replace as necessary.
Ensure the balance of the fan wheel and check the blower assembly for proper operation.
Inspect and clean all coils.
Clean all air quality components.
Inspect the condensing unit and refrigerant lines for leaks and repair if needed. Recharge refrigerant to the proper operating level.
Inspect all insulation wrap on refrigerant lines.
Completing these ductless mini-split maintenance procedures should leave your system in tip-top order. Filter checks should be made monthly and, when visibly dirty, cleaned or replaced. Your technician can show you how.
For more information about ductless mini-split maintenance, contact the experts at Rodenhiser Plumbing, Heating & Air Conditioning. We've been serving clients in the Route 495/128 area of Massachusetts for more than 80 years.
Image via Shutterstock.com