You probably know you should schedule HVAC maintenance twice per year, but do you know what you should do in advance to get ready for an appointment? Your tune-up will go more smoothly if you do the following tasks, either before you call to set up the appointment or in the hours before the technician arrives.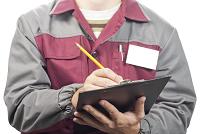 Before you set up HVAC maintenance:
If you haven't been satisfied with the system's performance, review the equipment's user manual to see if you can find troubleshooting tips. You may be able to remedy problems without contacting a professional for help. Remember, you should still schedule regular HVAC maintenance even if nothing is noticeably wrong with the system.
Understand any basic problems you're facing. Know what seems to trigger the symptoms and how long the problem has been going on.
Know where each unique system component is located, including the thermostat, circuit breakers, and the heating and cooling equipment itself.
Write down the brand and model number and have them available when you place your call.
If you rent your home, speak with the landlord before placing the call. Determine in advance who is responsible for paying for the HVAC maintenance visit.
In the hours before the technician arrives:
Ensure that an adult will be home during the scheduled appointment time to let the technician inside.
If you're not present for the visit, keep your phone near you in case the contractor needs to reach you for any reason.
Make sure the equipment is easily accessible and that furniture or other obstructions don't block the way.
Get cash, a credit card or your checkbook ready so you can pay the technician once the HVAC maintenance checkup is complete.
The most affordable way to enjoy HVAC maintenance twice a year is with a planned service agreement. You enjoy all the benefits of maintenance at a lower cost than those without the plan. To learn more, contact Rodenhiser Plumbing, Heating & Air Conditioning today. We serve the Route 495/128 area of Massachusetts.
Image via Shutterstock.com