Programmable thermostats, designed to control the temperature using preset parameters, offer home comfort solutions for Massachusetts homeowners.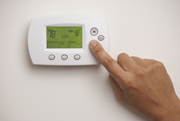 According to your needs, you can choose from three different models of thermostats that offer differing programmed settings. Employ these to take effect around-the-clock to help save energy.
5-2 day programmable thermostat - This model allows homeowners to set up one program for weekdays and a different program for the weekends. This type of thermostat can save up to 33 percent on heating and cooling costs if used efficiently. The definition of "weekend" isn' meant solely for Saturday and Sunday. Instead, your "weekend" programming depends entirely on your schedule. Because of this flexibility, it's the perfect type of thermostat for the homeowners with a varying schedule.
5-1-1 model - The 5-1-1 programmable thermostat is very similar in features to the 5-2 model, with the added benefit of being able to program separate Saturday and Sunday settings. Allowing for up to four periods per day, the 5-1-1 thermostat features smart programming that will automatically adjust your home's temperature based on new changes you make.
7-day programmable thermostat - The 7-day programmable option allows your household to set separate programming schedules for each day of the week. Many of these models also feature much more advanced features, such as wireless access via an Internet-connected device. Some advanced models are also able to adjust your household's programming automatically when utility prices rise.
Not much thought is given to the importance of thermostats in the average home. Taking the time to find and install the right programmable thermostat for your family's needs can save around 10 percent annually on your utility bills, along with greatly improving the overall comfort of your home.
For more information on programmable thermostats and which options are best for your home, contact the pros at Rodenhiser Plumbing, Heating & Air Conditioning. We're proud to serve homeowners throughout the Route 495/128 area of Massachusetts.
Image via Shutterstock.com