It's a big decision and an important one. And if you're like most people, it's not something to enter into lightly. If you're wondering whether or not it's time to replace your air conditioner, here are a few clues that can help:
You're Approaching Retirement or Already There
If you are approaching retirement or you're already there, replacing your air conditioner now could help you avoid the hassle and expense of installing a new system later on. And that can equal peace of mind while living on a fixed income.
The usual lifespan is related to regular maintenance and routine filter changes. There are a number of situations that might affect the life of your air conditioner.
If the one that you have now is nearing the 10-year mark, a good history of maintenance means that you can probably wait a little while longer to make the investment. But if you've skipped maintenance or let filters get too dirty before replacing, yours might soon enter the never-ending cycle of repairs.
Forbes agrees that the last thing retirees want to do is become saddled with a new, unexpected expense. So if your system is older, the sooner you replace the more soundly you'll sleep.
You've Purchased a Home With an Older HVAC System
A new air conditioner can make a new home purchase feel a lot more comfortable. Homes come with air conditioning in most cases, but sometimes it's difficult to know just how old the existing system is. In a brand new house, the age of the system probably isn't a concern. But if the house is older, you might have just purchased HVAC issues.
Your home inspector probably switched on the system and reported on whether it operated the way that it was designed to. Problem is, a home inspection is not a prediction. It's just an indicator of the condition of a home while the inspector is on site. It's like a snapshot.
If the home is older and either has no ductwork or not enough, there's a different type of air conditioner that's with looking into. Ductless systems are small but powerful heat pumps that give you cool air in summer and warm air in winter. They can be installed anywhere because they don't use ducts at all.
If the system is a heat pump, the home repair and improvement experts at This Old House say you can expect about a 16-year lifespan. If it's a standalone air conditioner, the high end of its lifespan is probably about 15 years.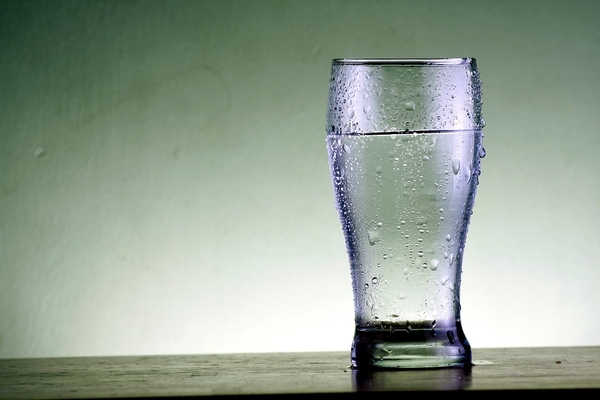 If you feel like this glass looks, you have a humidity problem.
Humidity is a Problem No Matter What You Try
If the air inside your home feels clammy and damp, your air conditioner isn't performing the way that it should. It might need a refrigerant recharge, but low refrigerant usually indicates that there's a leak. And if there's a leak, there's a real problem.
One of the key functions of air conditioning is removing humidity. That helps your home feel cooler and more comfortable, even at a slightly higher temperature. When the AC doesn't remove enough, the rooms can feel sticky and clammy, even when the thermostat says that the temperature is ideal.
A new air conditioner will remove more humidity, and that translates to increased energy savings. That's because a 72-degree room with 45 percent humidity feels much cooler than a 72-degree room with 60 percent humidity. Drier air feels cooler in summer, so your AC won't have to work as hard.
If the system uses Freon as a refrigerant, the best course of action is a replacement. Freon leaks are very expensive to repair and recharge. And they indicate a system that's on its last legs. It would be a shame to spend a couple of thousand on a repair only to replace the system next year.
Your Energy Bills are Creeping Higher and Higher
Have you noticed that your energy bills are creeping up and up? That might due in part to the recent heat wave. But it might also mean that your air conditioner isn't performing as efficiently as it once did.
When air conditioning systems get older, they work harder to cool your home. When they work harder, it takes more energy and more money to operate them. And even a perfectly maintained older system is rarely as efficient as any of the newer ones on the market.
Newer air conditioners must meet a higher standard of energy efficiency than those manufactured just a few years ago. Investing in a new system now means that you'll pay less in energy bills to have a more comfortable home. Bonus: the U.S. Department of Energy has renewed its 2016 federal tax credits for efficient appliances. Get a new AC system, and you could qualify for a generous credit.
Your HVAC technician will examine your system to find the problem before making a recommendation. You never know. The source of higher bills might be as simple as leaks in the ductwork. Those can be repaired.
Air Conditioning Repairs Happen More Often
If your HVAC technician's name and telephone number are in your phone's contacts, you probably see him more often than you'd like to. Frequent repairs mean that the system is beginning to break down. Nothing lasts forever.
Sometimes frequent repairs happen because of long-term neglect. It eventually catches up. But that's not always the case. Over time, moving parts simply wear out no matter how often they're inspected and cleaned.
If you need air conditioning repairs more than once a season, consider that your early warning alarm. It will probably worsen because all good things really must come to an end. You'll probably be amazed by how effective a new system is at cooling your home.
At Angie's List, some of the pros recommend the "5,000 rule" for deciding when you've had enough with repairs. Multiply the age of the system by the repair cost. If it meets or exceeds 5,000, it might be time to seriously consider a new system before the old one slowly makes your bank account become anemic.
The System Cycles Frequently
One potentially fatal indicator that a system is about to fail is short cycling. If your air conditioner is running through its paces more often than it used to, a new system is probably in your near future. You might get by temporarily with repairs, but repairs can't help every possible cause.
Just like it sounds, short cycling means that the system switches on, then off, then on, then off again in short order. This usually happens several times an hour, but sometimes it's as often as every few minutes. It can wear out the system components quickly, and it usually impairs the system's ability to extract humidity and cool your home.
Short cycling might be caused by low refrigerant, ice on the coil, damage to the compressor, or sometimes the problem is just a bad thermostat. And Inspectapedia says sometimes the real culprit is a system that's too large for the home.
HVAC professionals evaluate numerous factors about your home to help find the right size AC system. Factors such as insulation, drafts and even the type of windows installed make a difference. You don't want a too-small or too-large system. Like Goldilocks, you want one that's just right.
A new air conditioner transforms your summertime life for many years to come. Lower humidity means you can save energy and feel more comfortable at the same time. And because your new system will have a great warranty, you can feel confident that unexpected problems won't ruin your budget.
If your air conditioner has seen better days, there's no better time than now to contact the professionals at Rodenhiser. For 85 years and counting, we have provided expert residential service to communities throughout the Route 495 / 128 area. Don't suffer through the heat. Call Rodenhiser today and enjoy cooler, more comfortable air tomorrow.