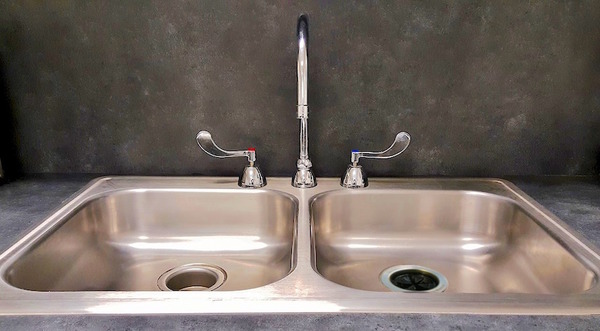 The disposal serves an important purpose, and that means it's one of the most frequently used appliances in the kitchen. Since nothing lasts forever, here's how to spot a disposal in distress so you can replace it before frustrating damage and costly repairs start to creep in.
You Constantly Fight Clogs and Jammed Blades
Clogged drains and jammed blades don't always mean that someone tried to dispose of no-no's such as fibrous veggies or a plastic action figure. If your disposal seems to be more trouble than it's worth, then maybe it's just not doing its job. Not all models are the same and yours might be undersized for the amount of use that it gets. A larger replacement could solve all of the ills.
That said, age, wear and tear could also be the culprit. Blades dull, motors get weak and garbage disposals do eventually break down. At H&R block's Block Talk blog, guest contributor and Apartment Therapy writer, Taryn Foil, says you can expect about 10-to-12 years from a disposal, depending on how often it's used. If you push the reset button frequently, it's probably time to let it go.
Leaks Keep the Sink Cabinet Soggy
Your garbage disposal is a heavy appliance. If you've never handled one, you might be surprised by how much it weighs. That's one reason why it's rarely a good idea to install one on your own. The sink does support the disposal's considerable heft, but even a small gap around a seal can lead to major leaks.
Disposals can also leak in other places besides the mounting hardware and top seal. Every seam in the appliance has the potential for a leak, especially considering how operation makes the unit vibrate. If water drips out, you might have a bigger problem than a simple loose connection.
Stubborn Odors Linger
Think about how much food has gone down the disposal since you've owned it. If you're not the first owner of the house, you can add more to the list. Every food particle can potentially lodge under a blade or deep inside the unit. When that happens, no amount of vinegar may resolve it.
Disposals are sometimes a major source of sour, spoiled kitchen odors. If you do a lot of food prep in the sink, there's the potential for food contamination, too. So if every trick that Pinterest has to offer still leaves you with a smelly sink, a new unit could solve everything.
You're Remodeling the Kitchen
If you're getting a kitchen remodel, you'll probably get a new sink in the process. While it's possible to uninstall a garbage disposal and reinstall it once the new basin is in place, you could be asking for trouble.
Disposals are intended to stay in place throughout their whole lifespan. Because of the unique way that they lock with the sink drain opening, removal could damage the mechanism. Factor a new unit into the kitchen remodel budget and you'll have many years of sharp blades, a powerful motor and good service ahead.
Some people love garbage disposals for the convenience that they offer, and some people think they're nothing but trouble. As long as they're maintained properly and kept clean, yours should last for over a decade. But when signs of trouble pop up, it's better to be on the safe side. Replace your unit and scratch one more stress inducer off your list.
At Rodenhiser, we've built a reputation on reliable, professional and courteous plumbing service. It's been that way for over 85 years. If you live in the Massachusetts Route 495 / 128 area and need a garbage disposal replacement, call Rodenhiser today.