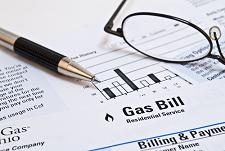 Terms you should know
There's quite a bit of information on your bill, and these terms are the ones to focus on:
Baseline allowance - Obviously, the more gas your home uses, the more money you'll pay. But in addition, the utility company uses a tiered system to determine how much the gas will cost you. This is partially determined by your home's baseline allowance, which is the amount of gas that the utility company has calculated will meet your basic energy needs.
BTU, or British thermal unit - This measurement of heat energy is used when listing how much gas your home has used in the past billing cycle. An alternate term you might see would be therm, sometimes represented by "thm."
CCF / MCF - These are other ways to represent your gas usage. One CCF is equal to 100 cubic feet of gas, and one MCF is equivalent to 10 CCFs (or 1,000 cubic feet).
How to use these terms to lower your gas bill
Knowing how much gas you're using each month can clue you in to energy waste you may be causing or experiencing. By comparing the previous months, for instance, you can determine if your habits have changed, and then take steps to lower your gas usage. Or, if you've been cutting back and being more aware of your energy expenditure but your gas bill continues to increase, this could indicate a problem with your heating equipment.
For more expert advice about reading and understanding your gas bill, or for questions relating to home comfort, please contact the professionals at Rodenhiser Plumbing, Heating & Air Conditioning. We've been serving the HVAC needs of the Route 495/128 area of Massachusetts for more than 80 years.
Our goal is to help educate our customers about energy and home comfort issues (specific to HVAC systems).  For more information about other HVAC topics, download our free Home Comfort Solutions Guide.
Rodenhiser Plumbing, Heating and Air Conditioning serves the Route 495/128 area of Massachusetts. .  Visit our website to see our special offers to get started today!
Image via Shutterstock.com