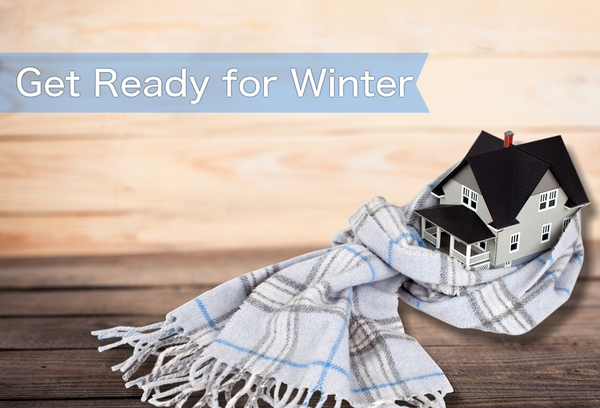 This time of year, you probably think about home maintenance chores such as cleaning out gutters, raking the yard and closing up storm windows to keep cold air outside where it belongs. But it's better to tackle all of your home's winterization needs now than to wait until you need a snowsuit.
Here's are some of our recommendations for keeping you and your home warm, safe and dry until spring comes around again.
Check the Plumbing and Insulate Vulnerable Pipes
If there's anything worse than waking up to frozen water pipes, we're not really sure what it is. When temperatures dip into the teens, any homeowner who has ever dealt with frozen pipes before might get a little nervous. Maybe you leave faucets dripping, too. But pipes can freeze in temperatures above 20 degrees if they're exposed to those temperatures long enough.
Pipe insulation and heated pipe wrap can help prevent the problem. So can sealing up air leaks that let cold air circulate around plumbing in crawlspaces and basements. If you're not sure where your pipes are the most vulnerable, your plumber can help you find the spots that need protection.
Head off Ice Dams Before They Can Start
Ice dams can sure look pretty with all of the glistening icicles hanging off the roof's edge. Too bad they have the power to ruin shingles, tear down gutters and send water leaks into your home. The problem isn't the weather, it's the way that your home reacts to it. And it usually boils down to insulation and ventilation. When the roof is warmer than the eaves, you have a recipe for an ice dam.
Ventilation and insulation are This Old House's recipe for stopping ice dams before they can happen. You need ample ventilation throughout the attic from eaves to ridge because that regulates the whole roof's temperature. And with more insulation on the attic floor, your attic will have less heat to build up in the first place.
Seal All of the Air Leaks You Can Find
Get your caulk gun, weatherstripping, silicone, and cans of spray foam insulation ready. It's time to seal air leaks wherever you can find them. There are countless places in every home where a gap might happen that lets cold air get inside. And where cold comes in, you can also lose heat. Sealants are the answer, and they're one of the easiest DIY projects around the house.
Here are some of the most likely places where the U.S. Department of Energy says you could find air leaks:
Around door and window trim
Around door and window seals (for weatherstripping)
Along baseboards and crown molding
Plumbing pipe and electrical wiring penetrations/holes cut through walls, ceiling and floors
Around bathtubs and showers
Along the chimney edge
Behind electrical switch plates and outlets (Don't caulk these; install an insulating foam backer sheet behind the plates instead)
Around the dryer vent opening
Around exhaust fans and vents
Throughout the basement or crawl space, especially along vertical edges in corners, seams between the basement ceiling and first floor, around basement doors and daylight windows, and along the walls.
When you head outdoors, check every vertical seam along the siding and trim. Caulk those, as well. But you should never caulk horizontal siding seams.
Think About Replacement Windows
Replacement windows can be a great investment or an expensive mistake. A return on the investment only happens under the right conditions. If your existing windows are very poor, replacements could make a huge difference in comfort and energy savings. But if they're in fairly good condition, they might require replacement again before you see any ROI. And if your home is quite old. If you can't invest in high-quality replacements, storm windows are a better option.
If you decide to take the plunge, focus on quality first. Budget windows are still not exactly cheap and they have a shorter lifespan. Look for multi-pane windows with gas between the panes, high-quality seals and low-emissivity glass that helps keep heated air inside your home and damaging UV rays out. While you're at it, think about energy efficient replacement exterior doors.
Get a Fireplace and Chimney Inspection
If you use a fireplace or any other wood-burning appliance, now is the time to give it a checkup. You can hire a chimney sweep, or you can do it yourself with a chimney-sweeping broom. (Caveat: This is an extremely messy job, and you'll need two people: one on the roof and one inside at the hearth). Chimney-sweeping logs are better for periodic cleanings after all of the soot buildup has been removed.
A fireplace and chimney inspection will find creosote buildup, weak spots in the chimney, issues with the damper and many other potential issues that could affect fireplace performance and the health and safety of your family.
Upgrade Your Insulation
Insulation is one of the most important ways to give your home a nice, warm hug. Unless you know for sure that the attic is highly insulated, chances are it could benefit from more. Blown-in insulation is very easy for your installer to add, and it can fill every nook and cranny where roll or batt insulation can't reach. There's even a DIY option, but equipment rental costs can be steep.
If you decide to add more roll or batt insulation on your own, remember that insulation isn't just a blanket to keep a house warm. Insulation is also a science. There are very important rules to follow:
Only use unfaced batts, which is the type that does not have a backing of paper or any other material, or loose/blown-in insulation if you are adding more insulation over existing.
Don't squash insulation into corners and other tight areas. This disrupts ventilation.
Never add insulation to an attic ceiling unless you get the opinion of an insulation expert first.
The paper backing is a vapor barrier, and the attic floor should only have one of those. It should be on the bottom, touching the attic subfloor between the joists, and it must always face toward the living space. On an attic floor, that means the paper side must always face down toward the rest of the house. If you are adding new insulation over existing insulation, an additional paper backing/vapor barrier will cause condensation problems that can soak the attic floor.
Schedule an HVAC Inspection
We're moving headlong into home-heating season, so it's time for an HVAC maintenance call. And this time, think about getting a ductwork inspection, too. Air leaks throughout the ductwork can send your expensive heated air into the attic, basement, between the walls and anywhere that the ductwork might run.
Your technician will clean the HVAC equipment, look for problems and make repairs on the spot or schedule them for later. Sometimes, parts aren't available and must be ordered. And if you want a ductwork checkup, there's a test that can reveal how much air is lost through leaks in the system. Air duct sealing can close most or all of the leaks from the inside out, which results in a major improvement in home comfort and energy savings.
If you're thinking about a new system, here are a few things to consider:
Is your home never really warm in winter?
Are your heating bills worse every year?
Do you turn up the thermostat with no real measurable improvement in comfort?
Does the system cycle on and off repeatedly and frequently?
Do you hear strange noises when the system is running?
Are repair bills mounting?
Do you have stubborn cold spots? (A new mini-split system can eliminate those).
Any of these could be a sign that your existing system is on its way out.
Your home is a highly sophisticated system with numerous smaller systems working throughout. And when everything is performing like it should, the house becomes a well-oiled machine of peak energy efficiency and comfort performance. But when any of the systems is weak or broken, it can affect everything else.
Fall is the classic time for home maintenance and repairs. So now is the perfect time to give your home a thorough checkup and take measures to improve all of the small and not-so-small issues that you can find. Your friends at Rodenhiser are here to help. We have served Massachusetts homeowners throughout the Route 495 / 128 area since 1928, and we're on the job for you, as well.
Call Rodenhiser today and we'll get your home ready for the winter season before it has time to settle in.