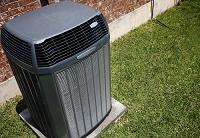 This will allow you to notice problems and to discuss these problems with the professional. The three main parts of your air conditioning system are the evaporator, compressor and condenser.
Evaporator
The evaporator is inside your home, and is connected to your air handler or blower and the home's ductwork. The evaporator has fins that act like the radiator on a car to transfer heat. However, instead of transferring heat to the home, they extract heat from it. As air is blown over the fins by the blower fan, heat from the air is transferred to the system's refrigerant.
Compressor
The refrigerant travels from the home to the compressor inside the outside unit. This compressor takes the low-pressure gas that comes through the line from the home and compresses it into a high-pressure gas. As a result, the temperature of the gas rises.
Condenser
The condenser is also in the outside part of your system. Like the evaporator, the condensing unit has a series of fins for heat transfer. As the compressed, heated gas leaves the compressor and enters the condenser, the heat is transferred from the fins to the outside air. The cooled gas momentarily becomes a liquid, but as it exits it becomes a gas and returns to the evaporator to start the cycle again.
An air conditioner is a large investment. If you want to ensure that your air conditioner is maintained at peak efficiency, it helps if you understand something about how it works. If you have any further questions about this topic or other home comfort issues, please contact Rodenhiser Plumbing, Heating & Air Conditioning. We have served the people of Massachusetts for more than 80 years.
Our goal is to help educate our customers about energy and home comfort issues (specific to HVAC systems).  For more information about air conditioners and other HVAC topics, download our free Home Comfort Solutions Guide.
Rodenhiser Plumbing, Heating and Air Conditioning serves the Route 495/128 area of Massachusetts.  Visit our website to see our special offers to get started today!