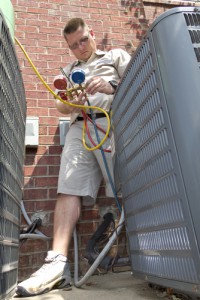 The Basics
The hydro-chlorofluorocarbon (HCFC) refrigerant R-22 was common in air conditioners prior to 2010, but has been banned in new air conditioners as of 2010, as part of the Montreal Protocol for protecting against further damage to the ozone layer. R-22 units use mineral oil to lubricate the compressor.
The HCF refrigerant R-410A is approved for use in newly manufactured A/C units and is becoming the new standard in the A/C industry. R-410A can operate at higher pressure than R-22, and as a result, can take in and expel more heat than its predecessor. R-410A compressors use a synthetic oil for lubrication that mixes more completely with R-410A than mineral oil does with R-22, which means there's less wear to the compressor during operation. All of these factors are making the new generation of A/Cs more durable and energy efficient than before.
Charging A/C Systems
While no new R-22 units are being produced, there are older A/C systems installed that use the refrigerant. Never try to mix the two refrigerants. The difference between R-22 and R-410A means mixing can cause a safety hazard. Don't put R-410A into a compressor built for R-22. It isn't built for the increased pressure and will crack and break.
For more information on A/C refrigerant and the difference between R-22  and R-410A systems, contact Rodenhiser Plumbing, Heating & Air Conditioning. We've proudly served the Route 495/128 area of Massachusetts since 1926.
Image via Shutterstock.com