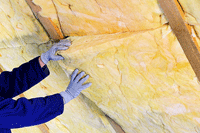 Batts in the attic
A significant amount of heat loss generally occurs through a home's ceiling. Common places for energy loss are recessed lights, the attic hatch, wall cavities and the ceiling itself. Your attic is likely insulated; consult with an HVAC expert to assess the amount and efficiency of the existing insulation. Attics in the Route 495/128 area of Massachusetts should generally have an insulation R-value of R-60.
If the attic requires additional insulation, batts are an excellent choice -- consisting of precut strips of insulation as opposed to long rolls -- when adding insulation to a space because they are easy to handle and they fit nicely between joists. If you are adding batts in the attic as a second layer, you'll need batts without the vapor barrier. If it is a first install, purchase batts with the vapor barrier, and place the barrier face down.
Tools of the trade
It takes a few simple tools and items of protective gear to ensure an easy and safe installation. You will need:
Goggles
Knee pads
Gloves
Hard hat
Respirator
Loose-fitting clothing (long pants and long sleeves)
Weatherstripping for the hatch
A lamp
Wooden planks to walk on (don't step between joists)
Staple gun
Duct tape
Utility knife
Tips for installing batts in the attic
Leave at least 3 inches of space from recessed lighting boxes and flue or stovepipe exposures. Install wood or metal baffles at these places. Check the condition of existing insulation. Damaged or moldy insulation should be replaced. If insulation is in good condition, you can simply add additional insulation on top of it. Remember to install weatherstripping around the attic hatch, and don't cover vents or fans with insulation.
For more expert advice, call Rodenhiser Plumbing, Heating & Air Conditioning in the Route 495/128 area of Massachusetts. We've provided trusted service and installation for more than 80 years, and your satisfaction is our guarantee.
Our goal is to help educate our customers about energy and home comfort issues (specific to HVAC systems).  For more information about insulation and other HVAC topics, download our free Home Comfort Solutions Guide.
Rodenhiser Plumbing, Heating and Air Conditioning serves the Route 495/128 area of Massachusetts. .  Visit our website to see our special offers to get started today!
Image via Shutterstock.com