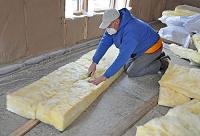 Insulation carries an R-value, which indicates how many hours the material can resist thermal change. Each inch translates to three hours for most insulation types, so 16 inches, the level the U.S. Department of Energy (DOE) recommends for attics in our area, provides 38 hours of protection from heat gain or loss. Rigid foam board insulation or sprayed foam insulation have higher R-values, offering more protection.
Attics
If you have plenty of space in the attic, you can unroll batts or blow in loose-fill insulation, like fiberglass fibers or cellulose, which is primarily recycled paper treated with borates for fire resistance. Laying batts can be a one-person job, while blown-in most often requires two people. One person fills the blower while the other points the hose.

Walls
If you're residing in your home or remodeling the inside of it, the best option to increase wall insulation is to use blown-in types. Installers use a drill bit that removes a circular piece of the drywall and points the hose inside the wall. They have to drill a hole between each of the studs in the wall and fill each section separately.
If your walls are narrow, sprayed foam is an option to increase your home insulation. You can also find pressurized cans of spray foam in home improvement or hardware stores to use around small holes or cracks in the basement, your walls or in the attic. When applying it, be conservative because it expands as it dries.
If you would like more information about home insulation, contact Rodenhiser Plumbing, Heating & Air Conditioning. We've provided plumbing and HVAC services for the Route 495/128 area of Massachusetts since 1928.
Our goal is to help educate our customers about energy and home comfort issues (specific to HVAC systems).  For more information about insulation and other HVAC topics, download our free Home Comfort Solutions Guide.
Image via Shutterstock.com