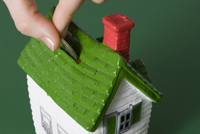 Whole-House Ventilation
Energy recovery ventilators (ERVs) and heat recovery ventilators (HRVs) are balanced ventilation systems, which provide equal air intake and air discharge to the home. ERVs and HRVs provide controlled fresh air ventilation by utilizing existing or newly installed air ducts.
Balanced ventilation differs from supply and exhaust ventilation systems (with or without ducts), which pressurize or depressurize a home with intake air or discharge air. Supply and exhaust systems force air exchange through leaks and openings in the home's shell. These ventilation methods don't save energy, and they may cause dangerous back-drafting of fuel-burning appliances.
How ERVs and HRVs Safely Save Energy
ERVs and HRVs use a heat-exchange core that transfers heat energy between fresh supply air and contaminated discharged air. The air streams circulate simultaneously inside the heat-exchange core separated by thin metal plates. These plates act as a conduit for heat energy transfer, effectively recovering more than 90 percent heat energy of heated indoor air, depending on the system.
ERVs and HRVs differ in that ERVs, in addition to heat transfer, also transfer small amounts of moisture to help regulate indoor humidity. Generally speaking, ERVs are more suitable for warmer climates where humidity management is a concern, and HRVs are suitable for homeowners throughout the Route 495/128 area of Massachusetts, who need fresh air in their homes while maintaining reasonable heating bills.
Another benefit of ERVs and HRVs is that air intake may be properly filtered before it enters the living spaces. Uncontrolled ventilation, such as supply, exhaust, or simply opening windows and doors, may introduce more contaminants into the home, which compromises ventilation.
For more information about energy recovery and heat recovery ventilators, please contact us at Rodenhiser Plumbing, Heating & Air Conditioning today.
Image via Shutterstock.com