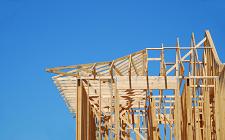 Ensure your HVAC installer calculates the home's heat gain/loss before proceeding, as well as that of the new addition. Knowing how much heating and cooling is required is an essential step in matching the right-sized furnace and air conditioner, and will help illuminate the most practical installation course for you to take.
System overhaul
If the heat gain/loss calculation reveals that your existing system doesn't have the capacity to accommodate the new space, and your existing system isn't very efficient, an overhaul may be in order. Evaluate the selection of high-efficiency systems available, which will provide comfortable heating and cooling for the existing home and the addition, while ensuring energy savings.
Extending your system
If extending your current heating and cooling systems is a practical option, you may be advised to install a zoning system, along with the plans to extend ductwork. A two-story home is a prime candidate for a zoning system, which is a network of automatic duct dampers that provide customized temperatures to each section of rooms (zones) in your home, ensuring everyone is happy, comfortable and content.
Using a separate system
If your current heating and cooling system is relatively new, but can not meet the extra heating and cooling loads required of the new addition, you could install a new system independent of the existing HVAC system. Ductless mini splits are ideal in these situations. You'll save living space and installation costs, since you won't need to install bulky ductwork. However, you'll need to ask your HVAC pro if a ductless system can provide enough heat to meet the heating demand during winter.
To ensure the highest energy efficiency, home comfort and long-term satisfaction, call Rodenhiser Plumbing, Heating & Air Conditioning today! We've provided homeowners uncompromising service and installation the 495/128 area of Massachusetts since 1928.
Our goal is to help educate our customers about energy and home comfort issues (specific to HVAC systems).  For more information about other HVAC topics, download our free Home Comfort Solutions Guide.
Rodenhiser Plumbing, Heating and Air Conditioning serves the Route 495/128 area of Massachusetts. .  Visit our website to see our special offers to get started today!
Image via Shutterstock.com