If you're using a high efficiency A/C in your eastern Massachusetts home, that's good. Air conditioning units with a SEER rating of 15 or more, commonly considered "high efficiency," are proven to be significantly better at providing high levels of cool air comfort while consuming less energy than units from just eight or 10 years ago.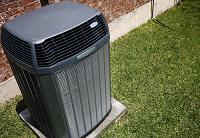 They are also typically more durable, which means fewer breakdowns, a longer life expectancy and fewer repairs required.
SEER, which stands for Seasonal Energy Efficiency Ratio, is a government-required rating for each central A/C system manufactured or sold in the U.S. It indicates efficiency of the heat-removing capability (in BTUs) of a cooling system using one single watt of electricity. Higher numbers indicate higher efficiency.
The problem with relying simply on SEER numbers as a gauge for A/C efficiency is that these ratings are assigned after laboratory testing on equipment likely running at peak performance with few, if any, outside variables. In the real world (your home) the "true" SEER rating is affected by numerous factors, including:
Airflow – which should be as close to 400 cfm per ton as possible.
Refrigerant charge – which should be neither under nor over manufacturers' specifications.
Air duct condition – including size, configuration and airtightness.
Equipment sizing – systems that are either too large or too small for the living area in your home will do an inadequate job of both cooling and dehumidifying.
Your high efficiency A/C will only provide you with highly efficient operation if the above four "field adjustments" are properly made by a qualified HVAC service provider. According to studies, nearly half of all A/C system installations use incorrectly sized equipment. Improperly sealed/insulated air ducts, which many homes have, can cause as much as a 35 percent loss in cooling efficiency. Additional studies have shown that approximately 70 percent of all A/C systems have an incorrect refrigerant charge.
Rodenhiser Plumbing, Heating & Air Conditioning has been providing friendly, superior service to our clients throughout the Route 495/128 area of Massachusetts since 1928. Please contact us for additional information pertaining to high efficiency A/C or for expert advice on any indoor air comfort/quality matters.
Image via Shutterstock.com