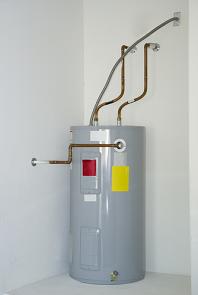 Insulating the water heater can prevent excess heat loss and energy consumption. Water heaters vary in size, generally ranging from 30 to 70 gallons, depending on the type of water heater you have and the size of your home.
In the cold winter months, maintaining the heat in your water heater can be a problem when nature's environment is working against it. Having an insulation layer over your water heater can mitigate this problem and keep the heat from escaping into the cold air, especially if your water heater is located in a drafty basement.
There are many things to consider when installing an insulation blanket. The size of the insulation needs to match the size of your water heater for proper insulation and installations can vary between gas-powered water heaters and electric water heaters. An improper installation can lead to the insulation catching fire or cause electrical components from the water heater to overheat.
Although there is an up-front cost to insulating the water heater, the long-term savings more than make up for it. Water heating costs are very manageable and even efforts like fine tuning your water heater can make a difference in the long run.
For help on installing an insulation blanket or any other HVAC issues, please contact the professionals at Rodenhiser Plumbing, Heating & Air Conditioning. For four generations, we have served the Route 495/128 area of Massachusetts.
Our goal is to help educate our customers about energy and home comfort issues (specific to HVAC systems).  For more information about other HVAC topics, download our free Home Comfort Solutions Guide.
Rodenhiser Plumbing, Heating and Air Conditioning serves the Route 495/128 area of Massachusetts. .  Visit our website to see our special offers to get started today!
Image via Shutterstock.com