Average household spends well over $2000 a year on energy bills, with nearly half of the used energy spent on heating and cooling. Installing and maintaining efficient heating, ventilating, and air conditioning systems is an important step towards a comfortable home, reduced greenhouse gas emissions, and lower utility bills.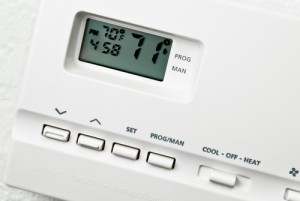 Programmable Thermostat Is Vital for Energy-Efficiency of Your Systems
If you are away from your home for set periods of time throughout the week, the first step to using your programmable thermostat properly is to find the thermostat model that suits your schedule:
7-day models – the best for a variable schedule; the option of setting different programs for different days
5+2-day models – ideal for a predictable schedule; two settings, one for weekdays and another for weekends
5-1-1 models – similar to 5+2-day models, with separate programs setting options for Saturdays and Sundays
Use Proper Pre-Programmed Settings for Maximum Efficiency of Your Thermostat
Just having a programmable thermostat installed in your Massachusetts home is not enough. For the maximum comfort, energy efficiency and savings on your utility bills, you need to use the programmable thermostat properly:
Install a separate programmable thermostat for each heating and cooling zone in your home.
Place your thermostats on interior walls, away from drafts, heating or cooling registers, doorways, fireplaces, skylights, windows and direct sunlight.
If you want to use the programmable thermostat properly, avoid placing furniture, appliances, and lighting near the unit.
Keep the thermostat at the same temperature setting for eight hours or more, and use the "hold" setting for a constant energy-saving temperature when you are away for a weekend getaway or vacation.
Avoid overriding the pre-programmed settings.
If you have a heat pump, you might need to use a special thermostat for maximum energy savings year-round. Contact an expert.
Regularly change your batteries - if your programmable thermostat doesn't indicate when batteries are low, change them once a year.
Serving the Route 495/128 area of Massachusetts, Rodenhiser Plumbing, Heating & Air Conditioning will help you with all your HVAC needs.
Image via Shutterstock.com