Summer vacations are the highlight of the year for many people. The excitement of preparing and planning for the event can take weeks or even months. Every step of the vacation from the lodging to activities to food is carefully planned to avoid problems. One part of preparation for vacation that is often overlooked, however, is home maintenance.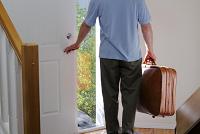 If you do not take the time to prep your home before you leave, you could be faced with problems and high energy bills when you return.
Use the following checklist to prepare your home for your next vacation:
Set your air conditioner to 85 degrees -- If you have a programmable thermostat, program the vacation setting to remain at 85 degrees. Alternately, set a higher temperature for nighttime, and a slightly lower temperature during the day to counter more extreme temperatures during the day. Setting your home's temperature up by just a few degrees can add up to significant savings on your energy bill when you return home.
Turn off your water heater, or turn it back to 120 degrees -- This step is only necessary if you will be gone longer than three days. Your water heater uses a large amount of energy, and turning if off can provide significant savings on your next energy bill.
Unplug appliances in your home -- Appliances and electronics can still use energy even when they are turned off. The only way to maximize energy savings is to unplug the units from the wall.
Turn off the main water valve to your home -- This action will prevent leaking or flooding while you are gone, and ward off expensive repairs.
Turn off the lights in your home -- If you are concerned about safety, use a timer to turn the lights on at night.
For other great tips on home maintenance or energy savings, contact us at Rodenhiser Plumbing,Heating & Air Conditioning. We serve the Route 495/128 area and are happy to help you find new ways to save money on home maintenance costs at any time of year.
Our goal is to help educate our customers about energy and home comfort issues (specific to HVAC systems).  For more information about other HVAC topics, download our free Home Comfort Solutions Guide.
Rodenhiser Plumbing, Heating and Air Conditioning serves the Route 495/128 area of Massachusetts.  Visit our website to see our special offers to get started today!