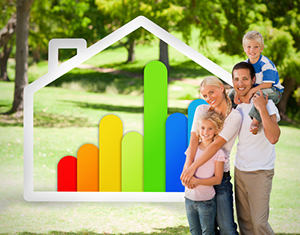 New Build Options
Starting with a clean slate and designing a new home offers the maximum potential in terms of freedom to develop an energy-efficient home. From the method of construction to the materials used and the renewable options available to power the home, the opportunities are virtually limitless.
A properly designed zero carbon home incorporates the full range of energy saving measures available – top class insulation, specially sealed windows, super efficient heating and cooling systems, energy efficient landscaping and renewable resources .
The real key to achieving an energy-efficient home is adopting a whole house approach.
Options for the Existing Home

Transforming your house into an energy-efficient home is possible if you take a methodical approach to assessing and addressing existing energy waste issues.
Start off with a home energy assessment to flag the main energy waste issues and help you formulate a plan of action. Each home is different but common recommendations include:
Sealing cracks especially around doors and windows which allow air leaks. Leaks allow unconditioned air in and conditioned air out, thereby overburdening the HVAC system.
Getting a trained air conditioning specialist to inspect and address leaky ductwork, which allows conditioned air into parts of the house you don't need to heat or cool.
Investing in insulation especially in attics and other crawl spaces.
Other practical measures include upgrading aging windows and replacing energy draining lighting and appliances with energy efficient alternatives.
Need Help?

Get help making sense of all the information available by talking to our team of heating and cooling experts. Contact us at Rodenhiser Plumbing, Heating and Air Conditioning – proudly serving the Route 495/128 area of Massachusetts since 1928.
Image via Shutterstock.com