Inspect Air Filters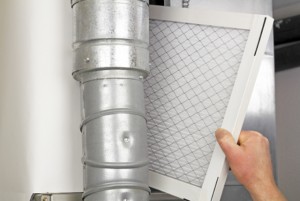 Air filters frequently get dirty or clogged, and not just the filter inside the furnace. Check the furnace filter every month, and change it at least once or twice a year.
The cold air intakes and heat vents generally also have filters. Look at each individual filter; remove any large debris that may be caught in them, and change the filters if they're clogged with dust. Ensure that all registers are fully open.
Confirm the Thermostat Works
Programmable thermostats need batteries to work properly, and they may not function properly if the battery is low. Check that the display lights properly and doesn't show any battery warnings. Next, locate the breaker associated with the thermostat and make sure it's turned on.
If you want to go into advanced thermostat troubleshooting, you can shut off the breaker and cross the two wires that serve the furnace. Flip the breaker back on. If the furnace fires, the thermostat is the problem.
Check the Furnace
The pilot light should be visible inside the heat exchanger on the furnace. If you don't see a flame when the furnace is off, then you may need to re-light it. Pilots that don't re-light properly may have a supply issue that a furnace technician needs to assess and fix.
If the pilot is on but doesn't ignite the burners when the thermostat calls for heat, the ignitor is the likely culprit. Turn off the gas reset valve for at least five minutes, and then turn it on and try again. Call a technician if it still won't light.
Contact us at Rodenhiser Plumbing, Heating & Air Conditioning for more expert advice on troubleshooting heating concerns in your Route 495/128 area home.
Image via Shutterstock.com