If you're like many homeowners, you may be wondering why programmable thermostats are generating such enthusiasm. In many ways, it's akin to why most people don't miss cranking the windows in their cars: there are real advantages to automation. And when it comes to programmable thermostats, the advantages are plentiful,  even if you never really minded jumping up and down to adjust the thermostat.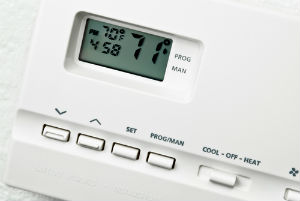 Why Go With a Programmable Thermostat
Fundamentally, these thermostats allow you to set the temperatures in your home ahead of time. You can set them around the comings and goings of your family so you're not paying for warm or cool air when no one's around. Some models even allow you to set the temperatures on a room-by-room basis.
Either way, if you can turn down the thermostat by about 10 degrees for a minimum of eight hours a day during the winter, you could save about 10 percent on energy bills, according to the U.S. Department of Energy (DOE).
Types of Programmable Thermostats
Programmable thermostats are versatile, allowing you to set temperatures for weekdays and weekends; weekdays, Saturdays and Sundays; or each day of the week. You can also override these settings any time you wish, which is perfect for days when the weatherman gets the forecast wrong. WiFi enabled thermostats even allow you to make adjustments via your smartphone or any other equipment with Internet access.
Programmable thermostats offer other advantages over manual models too:
They contain no mercury.
They're better at controlling humidity.
They can automatically check your home's indoor air quality and provide maintenance reminders.
They're easier to read, thanks to their digital format and backlit displays.
For more information about programmable thermostats, or for other home comfort concerns, contact Rodenhiser Plumbing, Heating & Air Conditioning. We're proud to serve homeowners in the Route 495/128 area of Massachusetts.
Image via Shutterstock.com