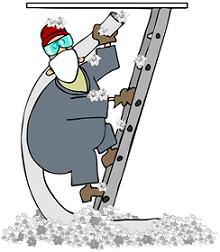 Heat always moves from warmer to colder areas. It can move in three ways: conduction, convection and radiation. Insulation slows these movements and provides a barrier to keep our homes comfortable.
There are many types of insulating materials, each with their own properties and assets. While the types of product may vary, they all have the same goal in mind — to keep your house comfortable and save your energy dollars.
To choose the proper material to insulate your home, you need to know where you want or need the product and the recommended R-value, or resistance to heat flow. The higher the R-value the better.
Here's a brief overview of several types of home insulation and where they're best used:
Blanket: batts and rolls
Unfinished walls
Ceilings and floors
Attic
Concrete block
Unfinished walls
Major remodeling
New construction
Walls
Foam board
Unfinished walls
Ceilings and floors
Non-vented roofs, low-slope
Concrete forms, insulating
Unfinished walls
New construction foundations and walls
Blown-in and loose-fill
Existing closed walls
New walls with holes
Unfinished attic floors
Hard to reach spots
Reflective systems
Unfinished walls, ceilings and floors
Fiber
Ductwork and other high temperature locations
Foam, sprayed
Existing walls, closed
New wall openings
Unfinished attic floors
Insulated panels

Unfinished walls, ceilings and floors
Roofs, new construction
For more information about home insulation choices and which one is right for your situation, contact the experts at Rodenhiser Plumbing, Heating & Air Conditioning. We've proudly served the Route 495/128 area of Massachusetts since 1928.
Our goal is to help educate our customers about energy and home comfort issues (specific to HVAC systems).  For more information about insulation and other HVAC topics, download our free Home Comfort Solutions Guide.
Rodenhiser Plumbing, Heating and Air Conditioning serves the Route 495/128 area of Massachusetts. Visit our website to see our special offers to get started today!
Image via Shutterstock.com