Heating and cooling technology has come a long way in the past few decades, and with it, the act of controlling that technology has gotten better. Perhaps the best example of this is the smart programmable thermostat. Let's take a look at how this new system can help you save energy.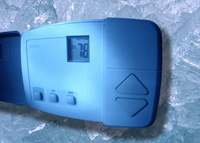 How a programmable thermostat works
As the name implies, these types of thermostats allow you to set a number of controls. The desired temperature of your home is a given, but it also allows you to set the exact on and off times of your heating and cooling equipment. It also features both daily and weekly settings, which means there won't be any surprises when you come home from work or forget to switch off the unit.
How a smart programmable thermostat differs
As soon as consumers began learning the benefits of the aforementioned advancements in technology, the industry decided that wasn't good enough. In addition to the already advanced features, the smart programmable thermostat also includes these benefits:
WiFi - This option allows to you access your thermostat from anywhere, as long as you have an Internet connection. This allows you to change its setting on the fly. No more wasting energy simply because you'll be arriving home later than expected.
Smartphone app - Applications are all the rage, and there's no reason that the smart programmable thermostat market should miss the boat. This basically works like WiFi, but from your phone.
Data tracking - Want to learn more about your energy usage? A smart thermostat will send you a chart about how and when you're using your heating or cooling system.
Learning - In the "it's so advanced, it's almost scary" category, these new thermostats can include an option that will learn your heating and cooling needs in a matter of days.
For more expert advice about using a smart programmable thermostat, or for questions relating to home comfort, please contact the friendly professionals at Rodenhiser Plumbing, Heating & Air Conditioning. We've been serving the HVAC needs of the Route 495/128 area of Massachusetts for more than 80 years.
Image via Shutterstock.com