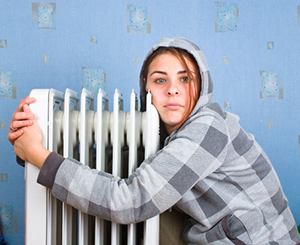 Common Boiler Issues
No heat? Your unit may not have power, in which case you should check its connections and the circuit breaker. It may also be low on water. The burner may have a malfunction, or there could be some issue with the thermostat – either it's set too low or it's not properly communicating the required temperature.
Poor heating? If the heat level drops suddenly, you may have too little or too much water in the tank. If you've noticed a gradual decline in boiler performance, you may have a mineral buildup in the boiler or the heat exchanger.
Water leaking? The pump responsible for circulating water through your house may be broken or malfunctioning. You may also have leaky pipe connections or a fault at the pressure release valve, which may be due to a mineral buildup.
Some radiators or floors in your home heat but not others? There may be air trapped in the hydronic lines. If you have a radiator and the top is cooler than the bottom, there may be air trapped in the radiator itself. You could also have a faulty circulator pump, or the zone valves managing hot water flow to various areas could be malfunctioning.
Pipes too noisy? The circulator may be acting up, or you may have water trapped in the return pipes. This could mean that your pipes are insufficiently angled.
If you want to learn more about taking care of the boiler in your Massachusetts home, contact us today at Rodehiser Plumbing, Heating & Air Conditioning. We're here to help with all of your home comfort needs!
Image via Shutterstock.com