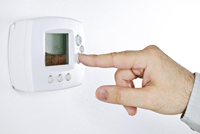 How Exactly Does the Heat Pump Heat?
When your heat pump thermostat senses the air inside is colder than the set temperature, it sends a signal to start the heat pump.
If the temperature is only a degree or so off the mark, the heat pump uses its regular heating stage to heat the internal air. It draws heat in from the outside to heat the indoor air. In this mode, the heat pump is relatively efficient.
If the temperature is more than a couple degrees off the mark, the heat pump is going to kick in the auxiliary heating element. This coil resistance heater heats the air passing over it, using a great deal of energy.
How Can You Keep Your Heat Pump's Power Use to a Minimum?
A heat pump programmable thermostat is the answer. When you program the thermostat correctly, you can keep use of the auxiliary heat down.
Most programmable thermostats work like an alarm clock. If you set it to start at 6 a.m., it will turn on the heating at 6 a.m.. If the indoor temperatures are two degrees or more below the target temperature, it will kick in the auxiliary heat automatically.
With a heat pump programmable thermostat, the process is not so abrupt. The thermostat calculates how much time remains before 6 a.m. and how long it will take to get from the current temperature to the target temperature. So, an hour or two before, the thermostat will start bringing up the indoor temperature a degree at a time without use of the auxiliary heater. That is much more efficient.
If you need help replacing your heat pump's thermostat with a programmable one, contact the pros at Rodenhiser Plumbing, Heating & Air Conditioning. We've been serving our Massachusetts neighbors since 1928.
Image via Shutterstock.com